Photo Journal - Five Days With Katrina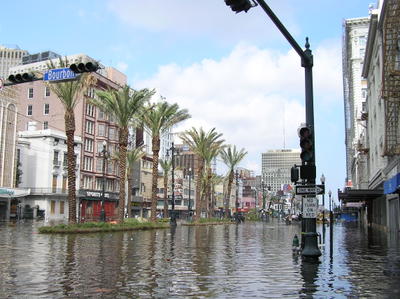 PROLOGUE:
On Sunday August 28 I woke up at 5 in the morning to go to my morning job at the Chateu Sonesta Hotel. The night before, we had been warned that Hurricane Katrina was preying her eyes upon us. In the history of New Orleans, there has NEVER been a direct hit by a hurricane. In everyone's mind, this hurricane would follow the same path that hundreds of past storms had done before. However, because of the size of the storm and ferocity which it tore through South Florida, the citizens of the The Big Easy prepared themselves as best they could... this is my tale of the events...
The link to this slideshow has been removed because the gallery has been taken down, probably due to exceeding bandwidth, after all the attention in the blogosphere and the CNN interview. Whenever the slideshow is hosted again, a new link will be posted.
Here's a new link to "
Five Days With Katrina
" the Alvaro Morales slideshow that is hosted again on the Kodak Gallery.
See also:
Eye of the Storm
, a photoblog at Dancing With Katrina dot blogspot dot com.
See also:
Operation Eden
, an extraordinary photoblog and journal telling the story of Hurricane Katrina from a very personal perspective.