Wake-up Call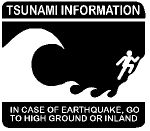 India became the first nation stricken by the
Indian Ocean earthquake and tsunamis
to vow to set up an early warning system, despite the expense and the fact it may not be needed for a generation or longer, according to a report by the
Reuters
news agency.
Affected countries had no warning of Sunday's devastating sea wave that killed tens of thousands of people unnecessarily because tsunamis are so rare in the area they are not tracked. An early warning system operated by
NOAA
to raise the alarm of tsunamis and save lives already covers much of the Pacific.
Sunday's wall of water that hit coasts in Indonesia, Thailand, India, Sri Lanka and other countries was spotted by U.S. seismologists.

However, they said they had no way to warn local governments even though the tsunami hit shore up to two-and-a-half hours after the mega-quake off the island of Sumatra in Indonesia.

"We tried to do what we could," said Charles McCreery, director of the National Oceanic and Atmospheric Administration's Honolulu centre. "We don't have contacts in our address book for anybody in that part of the world."
Learn more about the
TsunamiReady
program of the National Weather Service.
The South-East Asia Earthquake and Tsunami weblog , or
SEA-EAT
blog, has been established to provide an immediate community response concerning this natural disaster.
Here's the
latest news
about the tsunamis.