Remembering Mom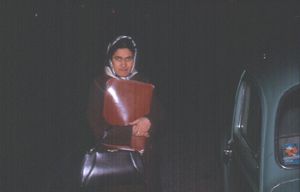 Mother's Day is always a time to put aside issues that consume us in our day to day lives, and focus on Mom. Although I lost my mother four years ago, she is always with me. Today, I thought I would do something a little different to remember her. After she passed, I submitted a piece about her to
The Globe and Mail
, hoping that they would publish it. On December 21, 2001, they did, so I thought today would be a good day to republish it as my way of saying thanks to Mom.
LIVES LIVED
Mohindra Pal (Dhaliwal) Gill
Earthy, Enlightened, Progressive, Canadian; way ahead of her time.
Born May 13, 1928, Matta, Punjab, India.
Died May 11, 2001, Markham, Ont. of respiratory disorder.

Mohindra Gill was born into a family of agricultural landowners in rural Punjab. The traditions of the day prevented women from laying claim to their ancestral land. For women, the trick was having their parents find a good husband from a similar background, raising kids, cooking, and most importantly, keeping opinions to oneself. Women's colleges were merely finishing schools; higher education was never even considered. Her mother, having lived through the oppression of that cycle, wanted a different world for Mohindra and steered her toward the stars. The result? Mohindra was the first person from her village, male or female, to graduate from university.

In the 40's she enrolled in an exclusive college in Lahore just before the winds of revolution began blowing. The British were pulling out of India and Partition between India and Pakistan was beginning. Soon, she found herself in the midst of riots, where people of all faiths were being butchered in the streets. Education took a back seat to survival. On one particular evening while trying to find refuge from the riots that surrounded her on the streets, she spotted a horse drawn cart with some ominous-looking characters hurtling toward her. It was her father who had come to Lahore to rescue his daughter. Flanked by a team of hearty field hands ready for a good fight (a small arsenal of weapons and ammunition accompanied the crew), my grandfather bundled her into the back of the cart, and they returned to the Indian side by moonlight.

After getting engaged and planning her wedding, Mohindra suddenly fell ill. It was tuberculosis and in 1951, this was a death sentence; doctors told her that she would not survive the year. She simply wanted five more years. Buoyed by the support of her devoted fiancée Ajit, she recovered three years later.

After marrying, Ajit and Mohindra arrived in Toronto in 1958 to enroll as graduate students at the University of Toronto. The game plan was simple: exorcise their wanderlust with a 1-2 year junket to the Americas; earn a Masters'; head back home to India to prestige and privilege. Instead they decided to pursue their doctorates, while raising two boys.

In 1967 she presented her doctoral thesis in Education. It was entitled "Pattern of Achievement in Relation to Self Concept" and proposed the idea that people were born neither smart nor stupid, but influenced by self-perception. It was a groundbreaking study and followed by a whirlwind North American tour. On December 7, 1968 the Toronto Star covered her speech to the Ontario Educational Research Council, and suggested that this topic may be instrumental in eliminating the use of intelligence testing in the classroom, which is eventually what happened. Regardless of what society told her, she defined what an Indian woman could be in Toronto in the 1960's.

Being one of Toronto's early pioneers from India, Dr. Gill retired from the OISE at UofT in the mid 1980's to offer sagely advice and guidance to members of her community. In recent years her health began deteriorating. On a routine visit to the hospital in May, she suffered a serious respiratory attack. On the morning she died, she was flanked by her family, including three beautiful and inquisitive little granddaughters, Maureen, Julia and Hana who seemed particularly quiet yet comforted in the presence of their ailing grandmother.

My wife and I have enrolled Hana in Montessori school during the fall. The teacher tells us that even when all the other kids are obediently sitting in a circle, Hana is more interested in roaming around and exploring her new environment. It makes perfect sense to me.

Tony Gill
Tony Gill is Mohindra Gill's son.