FEMA Graphic Disaster
The
FEMA
website explains what they do, and uses a graphic to illustrate the process.
One way to look at what FEMA does is to think about the life cycle of disasters. Some of the functions involved are shown below.

The disaster life cycle describes the process through which emergency managers prepare for emergencies and disasters, respond to them when they occur, help people and institutions recover from them, mitigate their effects, reduce the risk of loss, and prevent disasters such as fires from occurring.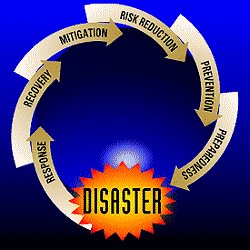 This chart, clearly depicts the agency's responsibilities in the event of a disaster. It begins with a response to a disaster, leads to recovery, mitigation, risk reduction, prevention, preparedness (dramatic pause) and ends up BACK IN DISASTER! In truth, FEMA did exactly what they said they were going to do. — Jon Stewart
Pilloried by late night television, mainstream media, and the blogosphere, former FEMA chief Michael Brown is no longer on the agency's payroll, the Homeland Security Department said Wednesday, ending nearly two months of compensation after he resigned under fire.
Michael Brown
stepped down as director of the Federal Emergency Management Agency on Sept. 12 after the government's sluggish reaction to Hurricane Katrina and questions about his own disaster response experience. He remained on the FEMA payroll until Nov. 2 to help the agency complete its review of the response to Katrina, officials said.
After learning that Mr. Brown's 30 day consulting contract to determine what went wrong with FEMA's response to Hurricane Katrina had been extended for another 30 days, Senior House Democrats demanded that his contract be terminated, saying it was "
a gross waste of taxpayer dollars
."
That
ridiculous graphic
can go, too.