Journal of Facilities Management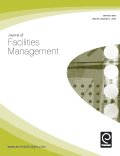 Journal of Facilities Management
is a strategic level journal for Heads of Facilities and Corporate Real Estate. The journal features a combination of theoretical and practical articles, complemented by a wide range of case studies and regular features, identifying key implications for senior practitioners in Facilities Management.
"
Workplace continuity: how risk and technology will affect facilities strategy
," an article of mine published in the latest issue of the
Journal of Facilities Management
, has just been made available online from the publisher, if anyone who is not already a subscriber to the journal is looking for nicely printed copies. Here's the gist of it.
Abstract: Purpose – To provide a summary of factors contributing toward the movement toward decentralized workplaces; this will largely be driven by the need to principles of business continuity, as well as the increasing ubiquity of broadband.

Design/methodology/approach – This takes a chronological approach to the development of a few previously separate organizational movements (i.e. business continuity, telework, advances in remote technology, facility strategy) and demonstrates how recent events have caused a collision of these factors. The result of this has been to energize the movement to alternative workplace models.

Findings – The paper demonstrates how the concepts presented move from a theoretical construct to a practical one based on factors including reduced implementation costs, a greater need to protect human and physical capital, the need for organizations to remain competitive, as well as the need to address work and lifestyle balance needs of employees.

Research limitations/implications – Enterprise-wide applications of business continuity are still relatively new, and the penetration levels of broadband are not quite at the point where change will occur immediately.

Practical implications – Real estate professionals can effectively redefine their responsibilities and enhance their strategic profiles within the organizations they represent by understanding and integrating basic principles of workplace continuity.

Originality/value – This provides a blueprint for planners considering fundamental changes in workplace configuration.
The publishing policy here at the
Gill Blog
has always been to give away our ideas for free, leveraging the efficiency of the Internet. Please help yourself to our
previously published work here
, and feel free to come back as often as your like for more.